Services:
01/

FIELD SAMPLING
Oil
Water
Gas
Soils
Thiefing
Drum Sampling
Our field service is the basis from which Strata-Analyst Group began operation. We now have a full staff of field technicians, with forty hour OSHA certification, available 24 hours a day, and seven days a week. All our technicians are guided by The EPA Handbook for Sampling: Sample Preservation of Waters and Waste Waters, and the California DHS Scientific and Technical Standards for Hazardous Waste Sites Handbook. Soil sampling is guided by regulatory agency requirements and our geologic staff provides all equipment and protocol to meet those needs. For new groundwater monitoring wells Strata uses contracted drilling rigs alongside our onsite geologist who performs detailed well logging. Electronic submersible groundwater pumps are utilized for purging and our trained field technicians sample using disposable bailers.
02/

WASTEWATER TESTING
24 hour composite sampling and grab sampling. Please contact us to inquire about specific parameters
03/

SOIL SOLIDS & SEDIMENT TESTING
Soil remediation, Drilling mud, Solids analysis.
04/

PETROLEUM TESTING
Our laboratory is capable of performing numerous tests for petroleum products including: API Gravity, BS&W, RVP (Reid Vapor Pressure), Sediment by filtration, solubility (water, acid,solvent), Specific Gravity, Viscosity and full Oil Assays.
05/

GAS AND VAPOR TESTING
Natural gas collection and analysis in our in-house gas laboratory can provide pertinent data on a timely basis. Strata is often contracted to monitor source gas, by grab or composite, to enable firms to provide gas continuously to sales utilities, and meet stringent requirements.
06/

LIQUIFIED PETROLEUM PRODUCT TESTING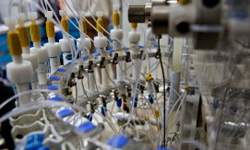 In-house liquid hydrocarbon chromatography provides our clients with BTU, Specific gravity and hydrocarbon breakdown.
07/

LUBRICANT TESTING
Strata collects and contracts lubricating oil samples to be tested for: wear metal constitutes, contaminants, oxidation and degradation, viscosity, acid number, table 9-2 kinematic viscosity and specific gravity to maximize unit life and save money by avoiding failure.
08/

LEAK DETECTION SURVEYS
FID detection and leak classification
09/

PIPELINE CORROSION EVALUATION
Geochemical and Scale analysis, Corrosion coupons, Cathodic protection testing, microbiologically induced corrosion testing (MIC)
10/

SCAQMD SAMPLING
AQMD method 307-91 sampling in tedlar bags.
Serving the Petroleum, Industrial and Environmental Industries for over 30 years